We need a more fully featured debug panel now that we have nested components and multipe messaging destinations. The debugger needs to be designer friendly. We need to be able to track variable values that get sent via all message routes. We need to know the order of execution of repsonses. We need error handling for any formulas which are broken as currently changing a layer name doesnt update a formula. It would be goog to be able to set breakpoints as well. This would need to run both in player and in preview.
Merged in a post:
Debug & Error Listing
As pies grow and trigger lists get longer and longer, now with the ability to nest within trigger groups.
It's sometimes not easy to spot the little yellow dot indicator where something isn't quite right.
Although these yellow dot's don't kick up errors as such, they are just ignored. It would be useful to be able to find them and fix them without scrolling through lists and opening groups.
I would like to offer up a suggestion for an error/debug panel. (Call it what you like.)
The list is accessible from the top menu bar. Errors indicated by a yellow Triangle (If no errors are found, this would be white)
Once the error list is open, each instance is grouped by scene.
Each trigger/object/response is shown with a description of what the error is.
Formula errors are shown in more detail.
The option to jump directly to the scene/group/trigger error in question by tapping the magnifying glass to the side of the error.
Please merge this post as appropriate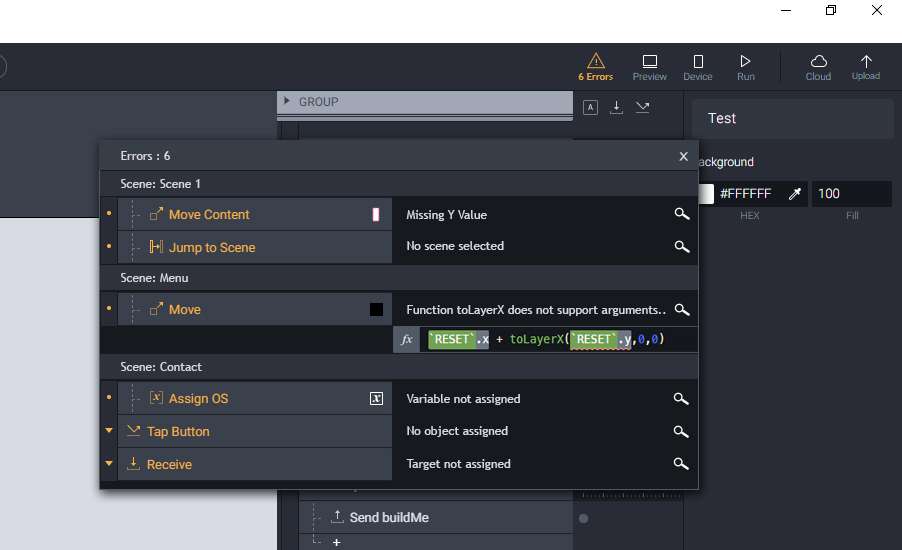 Merged in a post:
Debugging log or output console
Something similar to
console.log()
in JavaScript, where you can see which components are sending messages or detecting triggers etc. This would be very useful to debug when you're sure you have the logic right, but turns out you forgot to check "Make lower layers touchable" or something similar.
Merged in a post:
Built-in debugging to help you troubleshoot
For example I recently found that after copying a condition within a trigger I had forgotten to change the value. This essentially meant that I was doing 2 different things but both under the same condition (which were supposed to be different conditions). It would have been helpful and saved me about 20 minutes if there was a red highlight on the condition warning me that these two conditions might be clashing. I like how the conditions are listed on the timeline, but I usually work with timeline minimized since I don't use it much.