Only record certain steps in Interaction recordings (Handoff)
planned
marked this post as
planned
Merged in a post:
"Interaction Recipes" urgently needs additional clip functions!
Problem:
The Interaction Recipes feature is very unfriendly for recording complex interaction effects, than recording the motion of an app scoring popup, I only want to record the motion of the popup popping up and closing down to provide to the R&D staff.
It records all the parameters from the very beginning of the interaction prototype, it records a lot of parameters that the developers don't need to know about, it records all the effects of the app from the click of the download button, the download process, the completion of the download, the installation etc. into this "Interaction Recipes".
This makes it extremely difficult for the developer to find the pop-up window movement in the Interaction Recipes.
The solution:
click on Recipe to record without resetting the entire interaction prototype after the interaction has been recorded
edit the Interaction Recipes to provide an AE-like editing function to cut out the parts that the developer needs to know.
Provide a hidden layer-like function to hide the interaction effects. When designing complex interaction prototypes, there is a lot of sending and receiving involved, but in the Interaction Recipes interface, sending and receiving are only shown as "Receive/Send" characters, which does not provide a quick and effective The Interaction Recipes interface only shows the "Receive/Send" characters and does not quickly provide valid information to visualise what was sent and what was received.
when a Group name is set for an interaction in a Pie design, display that Group name in the Interaction Recipes
when a layer of Interaction Recipes is selected, highlight the interaction parameters for that layer, just as it does in the Pie APP!
Other improvements:
It is suggested that the name of the interaction snippet can be changed directly in the sub-page of Interaction Recipes, it is not convenient to have to go back to the main screen to change it each time.
As you know, ProtoPie is a design tool for creating high precision prototypes and the "Interaction Recipes" are the most valuable feature for most designers (T0 level) and the main reason why they are worth purchasing. I hope the Pie team will improve this feature soon, Pleassssssse!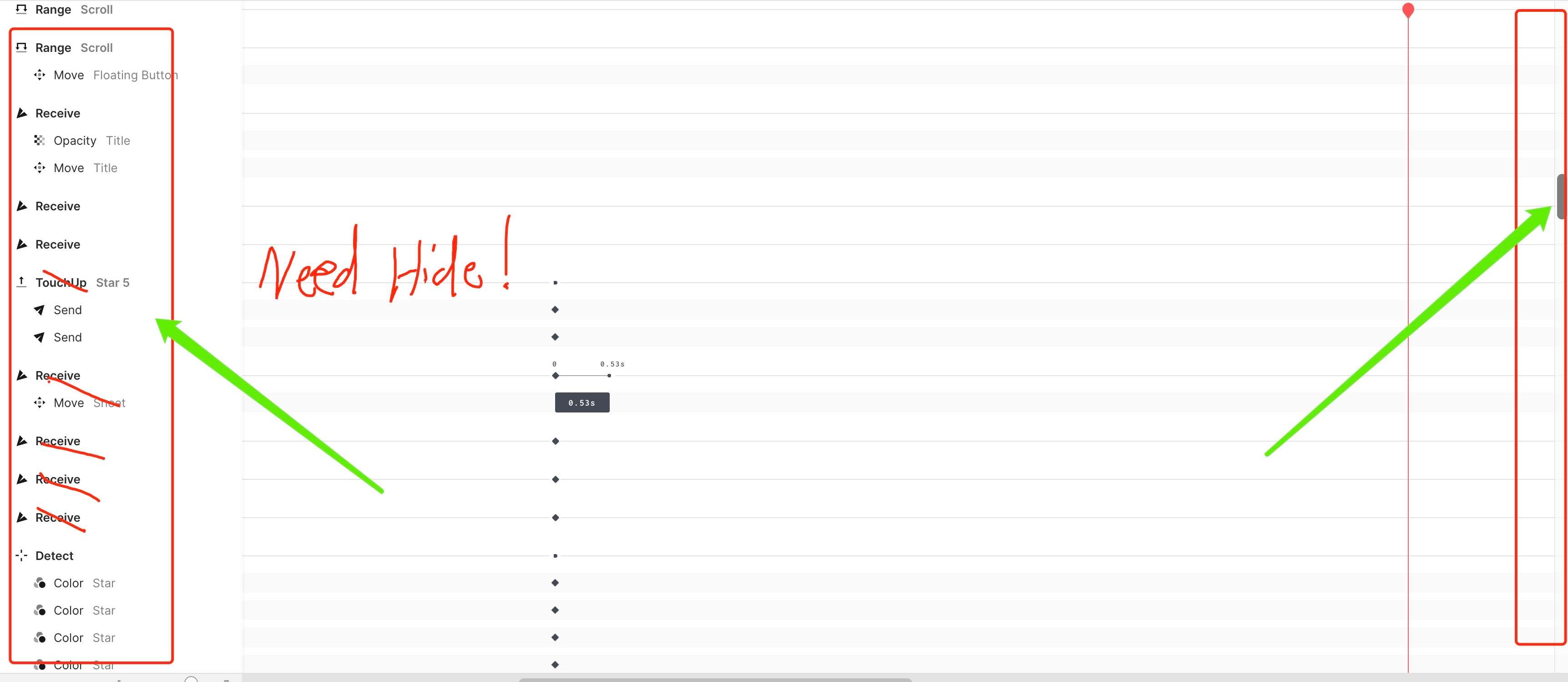 Merged in a post:
Link and share to exact frame of interaction recipe timeline
Interaction recipe is super helpful. But it makes handoff a bit complicated every recording starts from the beginning of interaction. I saw other request about record partially which makes sense.
I also think if we can annotate on the frame on timeline of interaction recipe and share the exact frame as a starting point(maybe ending point as well) - it would be so much easier to specify thing during handoff communication.
Since I have a handful of devs work together, it would be helpful to manage single source of truth and allocate the micro task at the same time.